Mullally MedSpa Online Store in Crown Point, IN
We also specialize in skin care products and wellness solutions to achieve noticeable and lasting results. Visit our online store to see more products of Mullally MedSpa in Crown Point, IN! For more information, please contact us or schedule an appointment online. Our medspa is conveniently located at 11275 Delaware Pkwy Suite C, Crown Point, IN 46307.
This next-generation, skin rejuvenating formula improves the appearance of coarse wrinkles, fine lines, skin tone, and texture. It's the only growth factor product proven to address sagging skin.
Neck Correct Cream for Neck and Décolleté is a powerfully effective serum uniquely designed to prevent and address the visible signs of neck aging.
Lytera® 2.0 is an advanced Pigment Correcting Serum, formulated to address the appearance of stubborn skin discoloration.
Upneeq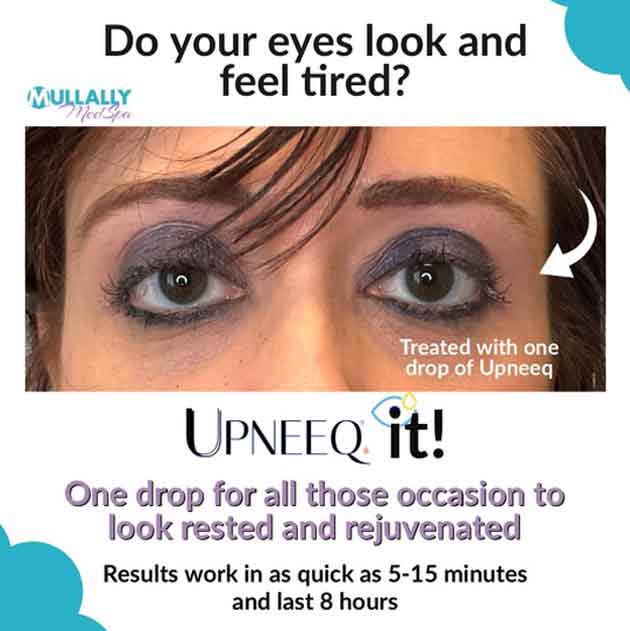 Upneeq is a prescription eye drop that helps the eyes feel hydrated, and brighter and lifts those tired eyelids slightly to help you feel and look rested and awake
For those tired eyes – try Upneeq!!!!
Bigger, Brighter, more open eyes! Give yourself that ready-to-go appearance!
With one drop of Upneeq, the results will kick in as quickly as 5-15 minutes and last up to 8 hours.
Upneeq works by stimulating the Mueller's muscle, which is responsible for lifting the eyelid and does not need needles to do so!
Upneeq is a daily eye drop solution for brighter – more open and whiter eyes!
Looking tired? Sleepy Eyes, Droopy Eyelids?
Simple, Daily, Painless at Home Eye Drops
Starts working in as early as 5 – 15 minutes, results in peak between 1-2 hours
Works for up to 8 hours
Brighter eye appearance
Upneeq Safe for daily use or you can use it on those special occasions to rejuvenate your eyes. These drops will also improve the visual field.
An innovative yet simple eye-opener for adults.
It uses a very benign drug, which is rare to have such good safety with very low side effects.
Use daily or when needed
Extremely safe, No Contraindications
Side effects are not common and don't last long: 1-5% blurred vision, headache, dry eye, eye redness, eye pain at the time of use
Caution for patients with uncontrolled high blood pressure and narrow-angle glaucoma
FDA approved, No contraindications – preservative free